Several people have asked for my truffle recipe. I actually have two recipes.
Mint Truffles
1 pkg. (10ounces) mint chocolate chips
1/3 cup whipping cream
1/4 cup butter
Any dipping chocolate - I like Baker's Semi-Sweet
Melt whipping cream and butter in a medium saucepan over low heat. Add chocolate chips and stir until completely melted and smooth. Pour mixture into a pie plate or shallow dish and refrigerate until mixture is fudge like. Usually this takes about 2 hours. Shape into balls and place on baking sheet with wax paper. I like to chill them for a little bit and then dip them into the melted chocolate. If your chocolate is too thick, add a 1/2 TBS of shortening for a smoother finish. Makes about 24 truffles.
Chocolate Oreo Truffles
3/4 pkg. oreo cookies
1 8oz cream cheese
2 pkg. Baker's semi sweet chocolate
In food processor, mix oreos. Some people remove the cream centers from the cookies...but my husband said he would call the police if I did that. Add one block of cream cheese and blend/mix together with a spoon. Roll into balls and dip into chocolate. That's it! These are so easy to make...they're even good before dipping them in chocolate!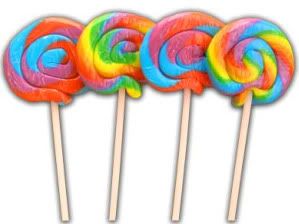 One of the dad's at school painted these posters for behind our bake sale table and the mom labeled and lamenated them so we could always have them. How nice was that?!
We had popcorn and grapes for kids who might not be able to have a sugar treat. The popcorn was a huge hit....we refilled the tin many times! I put the grapes in carrot shaped bags (leftover from Easter) to make them a little more tempting!
Dollar store marshmallow treats. The strawberry pie went to the best offer.
This quick and easy sign was made with paper plates! I had balloons at each end of the table. I just had to have the polka dotted ones! I got 4 balloons for under $5.00 and they made a really big difference as far as presentation goes! Unfortunately, we started to get busy selling baked goods and I forgot to get a picture of the entire set up and all the other neat things that were donated! For more bake sale ideas from a previous bake sale I did you can go
here
.