The smallest act of kindness is worth more than the grandest intention.
~ Oscar Wilde
(one of my favorite quotes ever!)

When was the last time you received a thank-you note in the mail? You probably remember...because it was so out of the "ordinary". What a shame. There was a time when sending a handwritten thank you note was just common courtesy...good manners if you will. Have we become so busy that we feel a quick email saying "thanks" will suffice? I have over 3,000 emails in my inbox ( I know, ridiculous!) so, does getting a quick thank you email have the same impact? Don't get me wrong, getting an email thank you is better than not getting anything at all. But, I think taking the time to write down a few lines and sending it in the mail, shows the person that you were truly appreciative of them. Anyone can send a quick email, right?
I learned at a young age from my mom, the importance of sending a thank you card. Oh how I dreaded doing this when I was little. Having to sit down and write a thank you for Grandma's Christmas gifts, birthday presents I received from friends, or even a ride to school. I didn't really understand the importance of it then, but over the years, I have come to realize that my mom was teaching me a wonderful life lesson. Show.Your. Appreciation. And, be thankful.
I'd like to believe that I'm passing this lost art of handwritten thank you writing onto my son too. He sometimes complains when I make him sit down and write thank you notes. But, I know it's working. A couple of weeks ago our neighbor brought over some tomatoes from her garden and after she left Brady said, "we should send her a thank you card". He often writes me thank you notes for little things I do for him. He is learning!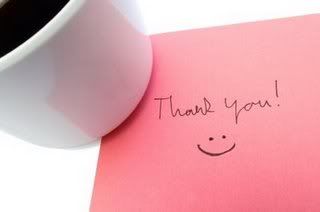 On Tuesday, my friend Kim came to my rescue. She was there for me. She dropped what she was doing, unexpectedly, and drove 25 minutes to come pick me up. I was so thankful to her and wanted her to know it. I sent her a thank you card (I didn't get it out until Thursday because I needed stamps, darn, but it did get sent!) I also made her and her sons a little treat. The gift of food is my favorite gift to give.
Here's the super easy recipe:





1 tube chocolate chip cookie dough
mini marshmallows
Reese's Pieces candy (or anything you want really!)
-----------------------
Bake cookie dough according to directions.
When cookie is done, top with marshmallows.
Bake for 2 minutes.
Let cool about 5 minutes.
Sprinkle with candy!
Send a handwritten thank you to someone today.
It only takes a few minutes...and the

person on the
receiving end will really appreciate it.
And you will feel good too!