On our way to Chicago, we stopped in Ohio to visit family and
attend a family reunion on my mom's side. The timing worked out perfectly.
It was actually Eric's idea to add a few extra days to our trip to visit my family.
It has been over 20 years since I've attended a Smith reunion...and I'm so glad we went.
I didn't take a lot of pictures...I guess I was busy visiting!
I'm happy with the ones I did get though.
I love this picture I took of my sisters. When we are together it is non-stop laughing and
giggling and joking. After the reunion, my mom, sisters, aunt and I went to get frozen yogurt and
we sat and chatted and laughed for over two hours. I thought they were going to kick us out!
I miss these times living so far away from my family.
Brady took his snow cone machine to the reunion and it was a big hit.
He asked Grandma if she wanted to help him...I think that made her week!
He and my mom must have made snow cones for all the kids for over an hour.
I love watching them together. They are proof that even when grandparents live far away...
you can still have a special bond. Brady's not a big phone talker...but when Grandma calls,
sometimes he's on the phone chatting away with her for half an hour. They are also pen pals.
I know it doesn't make up for the distance...but my mom tries really hard....and I love her for that.
My grandpa was one of 12 siblings. Growing up the family reunion was so big...and over the last 20 years....it's slowly dwindling down. Dorothy (top left corner) is the youngest of the family and is the only one left of all her brothers and sisters. Dorothy has alzheimers and her husband Ed takes great care of her everyday.
Brady and Grandma spending some time alone.
Can you see the smile on Brady's face?
My mom tried to go across the monkey bars and fell right down on both knees. That didn't
stop her though. I thought she would be sore the next day...but she said she wasn't. I was sore! I tried those monkey bars a few times and couldn't make it past two bars! I could fly across those bars
back in elementary school!
The highlight for me during this trip was giving my mom and aunt each a scrapbook
of their parents' story. My grandpa died at the age of 41 and my grandma was 51 years old when she passed. I never met my grandpa and I was 9 when my grandma died. My grandma had started a scrapbook but never finished it. My aunt found the book in her attic (she bought the house her and my mom grew up in). The book had some water damage and my mom and aunt asked if I could try and fix/redo it. I won't tell you how long I had those pictures before I got around to putting the book together...cause I'm
a little embarrassed about that!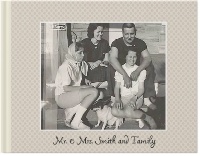 I picked my mom up and we went over to my aunt's house for coffee early the morning of our
family reunion. While we were having coffee, I gave them each a wrapped book.
I will never forget how I felt watching them open their scrapbooks. They reminisced and cried
and were giddy with excitement as two school girls.
My heart ached for them for having lost both
their parents at such young ages but
also thankful in getting to share in their special memories.
It was a great trip to Ohio and I'm so glad we were able to make it work.