"You can't blend in when you were born to stand out."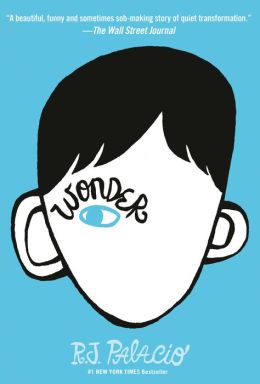 I read this book this past weekend. I kind of stumbled across it in the recommended section of my Nook. Without realizing it was a children's read, I downloaded it and began reading. And, I couldn't stop. I am in love with this book. It's truly a heart warming story about the human spirit and kindness.
With its strong bullying message, I hope that this book will make its way through elementary and middle schools everywhere.
I talked to the guidance counselor at Brady's school yesterday and he read the book about a week ago and has already ordered books for our 5th grade classes. They will be doing a whole class read with small group discussions. When they are finished, they will be passing the books down to the 4th graders. I am absolutely thrilled. When I was talking to our guidance counselor, he said that the one character in the book reminded him of Brady because of the way he befriended a boy in his class and was an example to his peers. I didn't realize the guidance counselor knew about that...nor had I made that connection myself in the book. A proud mom moment for sure.
There are so many life lessons in this book. I will definitely be getting a hard copy so I can go through and highlight all the good stuff. Brady is in the middle of reading it now. I am hoping once he finishes, we can read it again together.
I wasn't quite sure why the book was called Wonder. I looked up the word in the dictionary.
wonder (verb) 1. to think or speculate curiously. 2. amazed admiration or awe.
It does make me wonder what kind of person I am to others. Being kind is a choice we make. I hope I always choose kindness.
I hope you will go out and get the book to read with your son or daughter...you will be happy you did!

"Shall we make a new rule of life...always try to be kinder than necessary?"